Joint program between the Faculty of Biomedical Engineering and the Faculty of Medicine
This exclusive and unique program is intended for candidates with an exceptionally high admissions index (Sekhem), and it confers a joint degree: a Bachelor's degree (BSc) in Biomedical Engineering and Medical Sciences after four years.  An MD is granted after an additional three years (clinical) and one year of internship (see admissions requirements to the School of Medicine for students with an academic background).
Only candidates with Israeli citizenship can register for the joint BME-Medicine program.
Program objective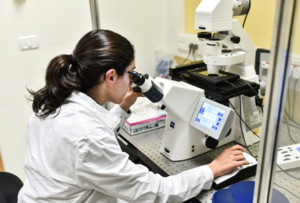 The program aims to generate students with in-depth knowledge in both engineering and medicine, who will lead all aspects of medical research and form the next generation of physicians, top researchers and developers, who will navigate the new research directions in the fields of medicine, engineering and biomedical engineering industry.
Program duration
Program duration - seven years, and an additional year of internship.
Study program
In the first two years, basic courses in Exact sciences, Life Sciences, Medicine and Engineering are offered.
In the third and fourth years, students complete all studies covered in the first years of medicine, in parallel to specialization in BME disciplines.
After completing all preclinical medical school coursework, students can begin their years of clinical studies.
Starting from the fifth year, upon completion of all preclinical courses taught in medical school, students meeting the requirements can move on to the three years of clinical work in medical school.

Biomedical Engineering:
Associate Professor Amir Landesberg | 04-8294143 |amir@bm.technion.ac.il
Asya Ashkenazi-Yelisyava | 04-8294123 | office@bm.technion.ac.il |bme.technion.ac.il
Medicine:
Michal Keren | 077-8871166|kabalamd@technion.ac.il| md.technion.ac.il

for undergraduate study catalog click here.