Please note! Only people with Israeli citizenship may apply to the double degree program in Bio-Medical Engineering and Medical sciences.
This joint program is designated for outstanding students, and is administered jointly by Medicine and the Biomedical Engineering faculties. It is an admission track requiring application at the time of registration to the Technion.
The program of studies is designated for candidates who were accepted to the Faculty of Medicine and are interested in the inclusion of a qualification in Biomedical Engineering.  The program grants a double degree: a BSc in Biomedical Engineering and a BSc in Medical Sciences. Towards the MD Degree and after completing all the disciplines of the Double Degree Program, the transfer to the Clinical Division  will be possible for three additional years and for one year of internship (pursuant to the Articles of Association of Medicine).
Courses that are parallel to the courses of Medicine will be recognized in favor of the double degree only for students who will complete the double degree program in its entirety, as described in the program of studies.
Purpose of the Program
The purpose of the program is to train graduates with comprehensive knowledge both in Engineering and in Medicine who will lead the medical research and all its diversities and will be the future generation of physicians, of senior researchers and of development personnel. In addition, they will navigate the new directions of research in the fields of Medicine, of Engineering and of the Biomedical Industry.
Duration of Studies
The duration of the studies for a double degree is five years (excluding the Clinical Division and the internship).
Course of Studies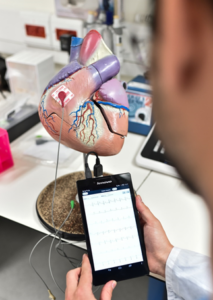 During the first years, the studies include the basis for the Exact Sciences, for Engineering, for Life Sciences and for Medicine.
Later on during the program, the studies will include courses in Medicine and courses in Biomedical Engineering.  During the fifth year, only courses in Medicine will be studied.  The transfer to the Clinical Division will be possible after completing all the courses of the double degree program and pursuant to the Articles of Association of Medicine. 
Completing the obligations in every degree comply with the relevant procedures of the Faculty.
Curriculum
The curriculum of each program can be accessed through the authorization website.

Medicine: Dr. Danny Eytan | danny.eytan@technion.ac.il
Adi Vrubel | 04-8295269  | md.technion.ac.il
Bio-Medical Engineering: Associate Professor Amir Landesberg | 04-8294123 | amir@bm.technion.ac.il
Chen Regev | 04-8294129 | undergrads@bm.technion.ac.il | bme.technion.ac.il