What is Biomedical Engineering
Biomedical Engineering is a multidisciplinary field that applies engineering principles and materials in the world of medicine and healthcare. This field integrates multiple and approaches from different engineering spheres to develop methods, devices, medical accessories, medical diagnosis and treatment systems, and tools to study the physiological basis of diseases.
Biomedical engineers can bridge the gap between the world of engineering and the world of medicine. The combination of engineering principles with biological knowledge for the sake of attending to medical needs has contributed to the development of revolutionary and life-saving solutions such as artificial organs, surgical robots, advanced prosthetics, kidney dialysis, advanced genetic sequencing, and more.
The biomedical industry encompasses areas such as diagnostic and therapeutic medical equipment, imaging systems, artificial organ development, implant aids, rehabilitative engineering, and tissue engineering.
In the coming years, the field of Biomedical Engineering is expected to reshape the world of medicine and human health.
Sub-fields of Biomedical Engineering include, among many others: biomedical electronics, biomaterials, tissue engineering, medical imaging, rehabilitation bioengineering, biomechanics, synthetic biology, medical robotics, neuro-engineering, super-resolution microscopy, and biophysics.
What is Being Developed in the Biomedical Industry
The field of biomedical engineering integrates many engineering disciplines and technological breakthroughs, including advanced imaging methods like CT and MRI, miniaturization of electronic components using "living" engineered materials and tissues, smart bio-sensors, and three-dimensional printing of tissues. In addition, a combination of tiny biological sensors for continuous monitoring of viruses, bacteria, and cancer cells, utilizing Nano-robots for drug delivery, lab-on-a-chip for quick diagnostics, bio-photonics to observe life processes on the cellular or tissue levels, and more. These technologies will enable the early detection of diseases, providing effective treatment and measures to improve the quality of life.
Biomedical engineers combine knowledge from the fields of Mathematics, Physics, Biology, Computer science, and engineering in order to accelerate the development of innovative medical and healthcare.
The substantial challenges that the global healthcare system and the pharmaceutical industry face drive the growth of the biomedical industry. The biomedical industry is based on Biology and Medicine combined with engineering fields or methods, such as electronics, intelligent machine learning and artificial intelligence (AI), Computational Biology, Physics, Nanotechnology, Materials Science, and advanced Genetic Engineering.
The Israeli biomedical industry boasts over 600 companies. Israel houses the R&D centers of the world's leading biomedical equipment companies, e.g. Phillips, General Electric and Medtronic.
Employment Opportunities
The increasing demand for biomedical engineers is linked to the incorporation of machines and technology in everyday life. Since the field of Biomedical Engineering is broad, the nature of the biomedical engineer's work is diversified and differs in accordance with the job. Most students start working in the industry already during their studies. Graduates of the faculty are integrated into key positions: in development groups of advanced medical equipment, in the characterization and planning of production, in the marketing and application of products in the field of medicine, in start-up companies, in biomedical engineering research institutes, as well as academic institutions.
Biomedical Engineering at the Technion
The biomedical engineering program equips students with a solid and in-depth background in basic sciences, together with extensive knowledge in Biomedical Engineering, Life Sciences and Medicine. This diverse basis qualifies graduates to take on key positions in the various hi-tech industries, in biomedical research institutions, in hospitals, and in government and international health organizations.
The premiere teaching and research laboratories at the Faculty are on pair with those of leading institutes throughout the world in this discipline. This enables acquisition of practical experience and expertise in a variety of fields.
 The Faculty encourages entrepreneurship and creativity, through close collaboration with the industry.
The undergraduate BME program offers three "Focus Tracks" (detailed below).
 The Technion offers two unique joint-study program detailed below:
1. Biomedical Engineering and Physics
2. Biomedical Engineering and Medicine 
Study Program
The study program is comprised of mandatory courses, a wide range of core electives in specialized areas of interest, and secondary electives.  Mandatory courses cover basic sciences (Mathematics, Physics, Chemistry and Computers), Life Sciences (Anatomy, Biochemistry, Cell biology and Physiology), engineering disciplines, intended to provide a broad engineering basis in Mechanics, Electronics and Control, Biomaterials, and Transport Phenomena, and in BME disciplines pursued at the Faculty (Bioelectric Effects, Physiological Cont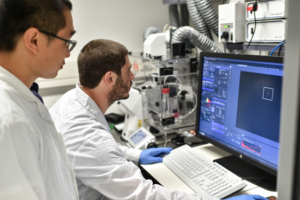 rol, Cell and Tissue Mechanics, etc.).
The program integrates courses aimed at providing students with practical and laboratory experience and to encourage innovativeness, and includes four laboratory courses and two project courses, in which students apply acquired engineering knowledge to design biomedical devices and systems.  In addition, a clinical-engineering project is conducted in clinical hospital departments, exposing students to the clinical work environment, and to the engineering needs in demand of solutions.
Electives courses are intended to enable students to specialize in specific fields of interest.  The list of electives includes a variety of topics, including: Diagnostic and therapeutic devices | Noninvasive techniques | Imaging techniques | Medical signal and image processing | Physiological control | Optics and ultrasound in imaging and therapeutic |  Musculo-skeletal and joint systems | Orthopedics and rehabilitation biomechanics | Tissue and cell engineering |  Artificial organs and aides | Biological flow systems | Respiratory systems | Biosensor systems | Biochemical engineering | Molecular engineering | Tissue engineering | Biosensors | Artificial metabolic Organs | Controlled-release drugs
Biomedical Engineering Focus Tracks
 Medical Imaging and Signals
 Biomechanics and Flow
Tissue Engineering and Biomaterials.
Students must choose at least two areas of focus.
Joint Programs
Biomedical Engineering and Medicine
A joint program between the Faculty of Biomedical Engineering and the Faculty of Medicine.
This exclusive program is intended for candidates with an exceptionally high admissions index (Sekhem), who pass the National Medical School Evaluation Exams (MOR).
This unique program confers a joint degree: A Bachelor's degree (BSc) in Biomedical Engineering and Medical Sciences after four years.  An MD is granted after an additional three years (clinical) and one year of internship (see admissions requirements to the School of Medicine for students with an academic background).

Advisors for Biomedical Engineering and Medicine only:
Biomedical Engineering: Associate Professor Netanel Korin | 04-8294116 | korin@bm.technion.ac.il
Chen Regev | 04-8294129 | undergrads@technion.ac.il | bme.technion.ac.il

Biomedical Engineering and Physics
Joint program between the Faculty of Biomedical Engineering and the Faculty of Physics.
Students in this program gain a broad basis in Nano-biophysics.
This four-year program confers a Bachelor's degree in Biomedical Engineering and Physics.

Advisors for Biomedical Engineering and Physics only:
Assistant Professor Netanel Korin | 04-8294116| korin@bm.technion.ac.il , Chen Regev | 04-8294129 | undergrads@technion.ac.il | bme.technion.ac.il
Graduates' Experience

Ori Laueterbach, graduate BSc in BME
Do you want your occupation to advance mankind and not only bring in money?  The Faculty of BME will provide you with the tools you need to become a multidisciplinary engineer, with a monumental advantage in understanding the Life Sciences and Medicine jargon, alongside Engineering jargon.
After serving in the army, I deliberated about which course of studies to choose. I looked into various study programs, but it was clear to me throughout, that I would study in the Technion, one of the country's leading institutes.  My interest and the potential embedded in a BME BSc  degree, attracted me.
The studies at the Faculty were challenging, but most interesting. The high acceptance requirements, results in a student body, of the highest quality and standards throughout the Technion. The limit on the number of students enables a close relationship between the students and staff, which makes the studies enjoyable with personalized attention.
During my undergraduate studies, I began working in a research lab at the Faculty, which exposed me to the world of research, and helped me focus further professional decisions.
Today, I am a part of a team developing a medical product in a leading company, in the discipline.

Professor Josue'  Szitman | 077-8295678 | sznitman@bm.technion.ac.il
Chen Regev | 04-8294129 | undergrads@technion.ac.il | bme.technion.ac.il