Study Programs
Civil Engineering
Structural Engineering
Management and Construction
Transportation Engineering
Water Engineering
Civil Engineering deals with supplying a wide range of our civil (i.e. daily life) required infrastructure on the personal-, local-, regional- and national levels. Civil engineering deals with research, planning, implementation, construction, management, supervision and operation of civil systems, i.e. buildings, transportation, the environment, and natural resources.
Civil engineers work in the areas of: structural engineering | construction engineering | project management | materials | function and technology of construction | hydrology and water resources | hydraulics | environmental engineering | transportation and traffic engineering | geo-technology | ground and foundation engineering | geodesy and geo-information. Civil engineering is an important and essential part of a country's strength and it is the basis for development and preservation of the infrastructure required for its existence, mobility, development, and the well-being of its population. This is especially true for Israel, whose civilian-, industrial- and agricultural sectors have been growing steadily since the establishment of the state. The civil engineering operations and industries contribute significantly to Israel's GNP. Civil engineers are key personnel in planning and carrying out projects in the framework of all civil infrastructure, and in the growth in different sectors of the economy.
Career Options and Job Opportunities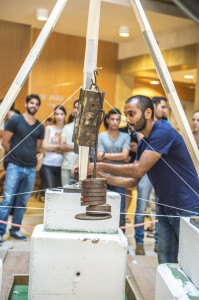 The demand for civil engineers is ever growing in many regions of the world. Civil engineers can choose from a wide range of occupations, including planning, management, execution, control and supervision of projects such as setting up the infrastructure and building of cities and towns, industries, agriculture and environmental systems (waste disposal, water supply, air quality, etc.).
Civil engineers manage construction companies, factories and subcontractors involved in these areas. They are qualified to work in the private or public sector on residential, public or industrial buildings, surface, marine and air transportation, design of roads, bridges and tunnels, marine engineering and marine and airports structure design and construction. They are also involved in the development and management of water resources, planning urban systems, protecting the environment and pollution prevention, development and establishment of industrial facilities for recycling of materials and exploiting wastes to produce energy or raw materials. In addition, civil engineers are trained in ground and foundation engineering, construction technology and in development and implementation of new building materials and supervision of building materials quality.
Civil engineers can work in planning and computerized simulation systems as well as in systems analysis and optimization of construction processes and exploitation of natural resources. They can carry out cost analysis and economic feasibility of construction and infrastructure projects, and find solutions for problems related to our quality of life, such as water sources and their quality. Civil engineers work in plants producing materials for the building industry and specialize in production and construction methods. Civil engineers can be found today on all management and executive levels in the public and private sectors and directly or indirectly participate in the business activities of industries whose impact on Israel has been evident for many years.
Civil engineers use their broad knowledge to join and complement other engineering areas by implementing structural planning and transport systems, as well as in the development of alternative energy sources and in the development of processes for producing sustainable food production.
Study Program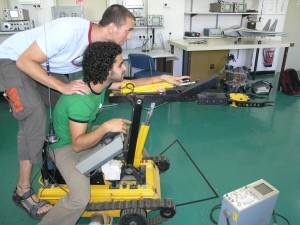 The study program reflects civil engineering's wide range of fields of expertise. It combines theoretical and practical training in the different areas of civil engineers operations.
The first semesters are dedicated primarily to study the basics. Students take core science courses such as mathematics, physics, chemistry, and computer programming.
Later on, courses in basic engineering are introduced, such as engineering mechanics, graphics for engineers | strength of materials | materials engineering | fluid mechanics | measurement theory | numerical methods | systems analysis and statistics.
Next, students take basic courses in each of the Civil Engineering's fields: concrete structures | transportation engineering | hydraulics and hydrology | geomechanics | geodesy | environmental engineering | construction technology, and construction management.
In addition to the general program in Civil and Environmental Engineering, the faculty offers undergraduate students to deepen their training in one or more sub-disciplines of Civil Engineering, namely: Structural Engineering | Management and Construction Engineering | Transportation Engineering, and Water Engineering. The faculty also offers a program in Mapping and Geo-Information Engineering and in Environmental Engineering. These four years programs cover different areas of specialization.
During their studies students work in different labs to practically experience the theoretical aspects, and participate in fieldwork and seminars. At the end of the theoretical studies, students must carry out projects in which they are called upon to implement and integrate the knowledge that they acquired, in order to plan and solve practical problems based on realistic data.
The Faculty encourages ties with industry, planning offices and employers in the public and private sectors. The professional relationships that can be created earlier on while they are still studying helps students to apply what they have learned in classes in the field, and use the experience they have acquired to guide their future studies and employment plans. Study programs are determined according to the faculty's different areas of specialization. The faculty is continually developing additional fields and keep track with modern developments in civil engineering.
Computer Use
Computers are used during the study
program for numerical calculations of complex problems, for simulating of dynamic responses of the design to different forces and scenarios, as support systems during the execution and control of different civil engineering projects, and as data gathering and analysis tools during monitoring and surveillance. Students have at their disposal a full array of modern computers and computing tools, from micro-computers through mini-computers up to consoles of the Technion's central computer. In addition, the track allows students to study using different software, including computer-aided graphics.
Libraries and Laboratories
Students have two libraries available for their use: a central Technion library which has a broad range of professional literature and journals from all over the world in all the fields of their studies and a faculty library containing all needed literature related to the broad field of Civil Engineering. A third library is located in the Institute for Research of Transportation and Road Accidents. Students and researchers can use these libraries freely.
Students can carry out experimental and practical work, while acquiring knowledge firsthand from workshops and labs, two testing centers, and five research centers: the National Building Research Institute, the Water Research Institute, the Transportation Institute, the Institute of Marine Technology Research and the Center for Environmental Engineering.
Additional Degree
Outstanding students from other tracks who meet certain criteria may study, in parallel, Civil Engineering as an additional major: for example, Mechanical Engineering, Industrial and Management Engineering, Architecture, and Chemical Engineering.
Advanced Studies
After completion of undergraduate studies, students can continue for graduate studies, which usually include research on a specific topic.
Graduates' Experience
My name is Matan Maskit and I finished my

ME in the Civil Engineering - Water Resources & Hydraulic Engineering program.
I have been interested in the Israeli water sector since I was young. The severe water shortage in Israel and the crisis which the water sector is experiencing have motivated me to work in this field. I would like to create, change, and lead the Israeli water sector forward while ensuring that the world's most valuable resource, water, continues to satisfy the changing needs of Israel. While looking for a course of study that would answer this need, I came across the Civil Engineering - Water Engineering program within the faculty of Civil Engineering that provided just this – specialized training as an engineer allowing integration into leading planning and operating companies in the field of water and the environment.
The program, especially the first two years, was not easy. Nevertheless, as time passed and I took part in more courses that interested me, I embraced the challenge. I was exposed to a whole new world I didn't know existed:
How to pump water?
How to plan a water system for a city?
How to reclaim wastewater?
How to desalinate sea water?
How to regulate a stream?
How to design water reservoirs, canals, and pipes?
How this whole complicated system works?
The environment at Technion provided me with a comfortable and supportive place to study. For example, the faculty provided various libraries, study rooms, and workshops; and the pool, gym, and sports facilities were provided with a partial subsidy. In addition, a music room, choir, and many concerts and performances offered by the student union allowed me to engage in my main hobby – music.
Currently, I am in contact with a number of companies in the water sector regarding employment (notably "Mekorot"– Israel's National Water Company) and I feel prepared to join in the emerging national water sector. Due to the high demand for water and environmental engineers and the labor market's lack of engineers that specialize in this area, I have several job options.
If you are a student that is interested in engineering, and in soil, water, and the environment, and who wants to work in a "hot", progressive, and fulfilling field leading to a wide variety of job options, the Civil Engineering - Water Engineering program at Technion is for you!

Levinsky Yael |  04-8292399 | cee.ug@technion.ac.il
Yogev Adi |  04-8292201 | cee.ug.stu@technion.ac.il
cee.technion.ac.il