Career Options and Job Opportunities
The track of Education in Science and Technology educates students, for careers as teachers in all scientific and technological areas: Biology,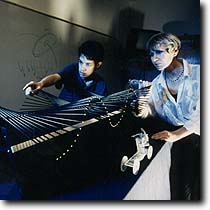 Chemistry, Physics, Mathematics, Computers and Technology Electronics, Electricity, Mechanics and other engineering subjects.
In the fields of science and technology there is a serious lack of teachers with such qualifications. High schools, technical colleges, teachers' colleges and training programs for the high-tech industry are all potential employers. The development of the profession of technological education has become an industry in itself, requiring a combination of knowledge and skills both in the area of engineering and pedagogy. This career choice allows graduates the privilege of educating the younger generation and guiding it in its first steps in technology or science - a source of endless satisfaction. Graduates may continue to study for a Master's and a Doctoral degree.
Undergraduate Study Program
As with all other Technion students, students in our faculty study the core subjects of Mathematics, Physics, Chemistry and English. Following that, students study programs in accordance with their choice of specialization. In undergraduate studies, students choose one of the following seven fields: Mathematics, Computer Science, Technology-Electricity, Technology-Mechanics, Physics, Chemistry Science and Biology-Environmental Science.
Depending on what they have selected, students take the appropriate science and technology courses. The courses in Education include Foundations of Education, Teaching Skills and Methods and these are taught parallel to the science and technology subject matter courses. Practical work in schools is combined with theoretical studies. In the Educational Methods Lab, students gain experience by teaching classes while being videotaped on closed circuit television.
Graduates obtain a BSc degree in the specific area they have studied and completed, including those studies toward a teaching diploma.
MABATIM-Post-graduate STEM Education Program
The program targets Technion alumni, who are granted scholarships for four semesters to earn a teaching certificate in Education in Science and Technology (~36 credits which require one and half or two days of weekly study). Students specialize in one of the STEM subjects for high schools and engineering and technology colleges.
The objectives of the undergraduate program are the following:
contributing to the Israeli education system by preparing prospective high school STEM teachers.
encouraging these teachers to undertake leadership roles in the education system.
fostering STEM teachers to pursue advanced academic studies.
contributing as instructors within industry (especially hi-tech), the Israel Defense Forces and the NGO sector.
Libraries
The faculty has a specialized library with learning materials, periodical journals and books in all the varied areas of education.

Mehler Tamar | 04-8292169| ed.ug.ad@ed.technion.ac.il