The Environmental Engineering curriculum is shared by three faculties: Civil and Environmental Engineering | Chemical Engineering | Biotechnology and Food Engineering. The Faculty of Civil and Environmental Engineering is the Host Faculty, in which the students are registered and guided.
Career Options and Job Opportunities
Today, environmental issues are the focus of strong public interest,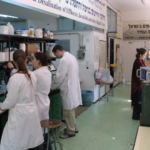 in Israel as well as around the world. Environmental engineering is a multidisciplinary field aimed at pollution control and improvement of the quality of the human environment. Graduates of the Environmental Engineering track fill a wide range of positions in the private, public and governmental sectors. Demand for such jobs is found, for example, in design firms, industrial plants, local authorities, governmental bodies, agricultural organizations, and academic institutes. The primary areas of employment are related to water quality control | air pollution control | municipal, industrial and agricultural wastes treatment | disposal and reuse.
Study Program
The undergraduate Environmental Engineering study program includes a broad scientific core consisting of Mathematics, Physics, Chemistry and Microbiology.
After completion of these introductory courses, students focus on the various aspects of Environmental Engineering.
The students further choose elective courses in their specific track of studies, one of the four following options: open environment, technologies in environmental engineering, process engineering, and sensing at the open environment.
Graduates earn a Bachelor's of Science in Environmental Engineering (BSc).
Scholarships for excellent candidates
Some scholarships are available for excellent candidates. Details will be given upon request.
Graduates' Experience
My name is Eyal Price, married and a father of three adorable children. I began my studies at the Technion at the Faculty of Civil and Environmental Engineering, in order to fulfill my childhood dream to plan and build engineering facilities. It only took until the second semester
to realize my true calling-in the Faculty's Environmental Engineering program.
I am always curious and interested in acquiring as much information on as many -subjects as possible. The Environmental Engineering program provides exactly that. It is a wide field, where the courses provide a taste of the vast variety of subjects in which it is possible to develop a career. Students are exposed to a wide range of topics: air pollution and particle dynamics, soil pollution, soil behavior, hydraulics, water pollution, water treatment, planning water supply systems, environmental law, etc. In fact, the range of courses in the Environmental Engineering program enables one to see the whole picture – How a natural process or pollution affects the environment and human populations, and which tools are available in order to address those problems.
Another factor that drew me to this program was the social aspect. The students are a unique group of people, and together we became a small and unified group with excellent social dynamic.
After graduation, I began working at Mekorot as an Optimal Management Analyst of the National Water Supply system. After two years at Mekorot, an opportunity arose, and I joined TAHAL Consulting and Engineering. I worked in TAHAL as a Project Manager in the field of water engineering for many years and today I am Chief Engineer in the company's engineering division. Specifically, I coordinate national water supply planning projects including: pump stations, water wells, pipelines, water tanks, reservoirs, water treatment facilities and other engineering facilities. This requires much use of the knowledge I acquired during my studies. The projects include various fields from water quality, hydraulics, soil, effect of a facility and materials on the environment, tours and coordinating meetings with other planning offices like the Ministry of Environmental Protection, Health authority, Israel Nature and Parks Authority, Ministry of Energy and Water Resources, and municipalities.
I have finished my Master's degree and PhD in the Faculty of Civil and Environmental Engineering while continuing my work at TAHAL. I studied modeling for optimizing water system operations and design while combining hydraulic constraints, the research subject was directly linked to my work at TAHAL.
If you are curious, like the environment and want to study a unique field that has practical applications to the workforce, I heartfully recommend the Environmental Engineering program.

Keren Kovler | 04-8292623 | cee.ug.env@technion.ac.il
cee.technion.ac.il