What is Biomedical Engineering
Biomedical Engineering (BME) engages the knowledge and tools covering a spectrum of engineering disciplines to develop medical diagnostic techniques and therapeutics and to investigate the physiological basis of diseases. The rise in standard of living and life expectancy throughout the world, alongside an increasing demand for diverse and high-level health services, has been paralleled with an escalating need for innovative medical devices and products.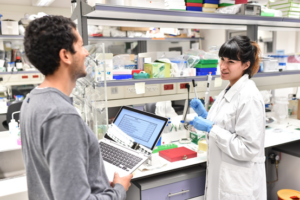 The engineering and scientific nature of BME trains graduates to engage in and integrate knowledge in Exact Sciences, Life Sciences and Medicine. Biomedical engineers can bridge between the engineering and the medical worlds, and are trained to combine analytical and engineering thinking with integrative capacities, with a considerable degree of innovation and creativity.
What is developed in the Biomedical Engineering Industry
The biomedical industry includes disciplines at the forefront of modern engineering, technology and medicine, including: Development of imaging platforms l Medical signal processing l Medical diagnostic and therapeutic devices l Brain research and neural interfaces l Analysis of physiological control systems l Rehabilitation engineering l Tissue engineering l Biomaterials l Artificial organs l Implantable artificial aides l Biomechanics l Physiological flow systems.
There is rapid growth in all of these disciplines in Israel and throughout the Western world. The biomedical industry seeks graduates with capacities to deal with complex systems and ability to delve into engineering disciplines, with a comprehensive understanding in the Life sciences. The field is characterized by innovation, sophistication and continuous search for challenges and new solutions. Alumni of our undergraduate and graduate programs in the Faculty of BME have successfully integrated the BME industry and other advanced and high-tech industries in Israel.
Employment Opportunities
The demand for graduates of this program is high. Most students already begin working in the industry during their studies at the Technion. Graduates take on key positions in: advanced medical device development teams, production characterization and planning, medical product marketing and application, start-up companies, BME research institutes and academic institutions.
 Biomedical Engineering at the Technion
The biomedical engineering program equips students with a solid and in-depth background in basic sciences, together with extensive knowledge in Biomedical Engineering, Life Sciences and Medicine. This diverse basis qualifies graduates to take on key positions in the various hi-tech industries, in biomedical research institutions, in hospitals, and in government and international health organizations.
The premiere teaching and research laboratories at the Faculty are on pair with those of leading institutes throughout the world in this discipline. This enables acquisition of practical experience and expertise in a variety of fields.
 The Faculty encourages entrepreneurship and creativity, through close collaboration with the industry.
The undergraduate BME program offers three "Focus Tracks" (detailed below).
 The Technion offers two unique joint-study program detailed below:
1. Biomedical Engineering and Physics
2. Biomedical Engineering and Medicine 
Study Program
The study program is comprised of mandatory courses, a wide range of core electives in specialized areas of interest, and secondary electives.  Mandatory courses cover basic sciences (Mathematics, Physics, Chemistry and Computers), Life Sciences (Anatomy, Biochemistry, Cell biology and Physiology), engineering disciplines, intended to provide a broad engineering basis in Mechanics, Electronics and Control, Biomaterials, and Transport Phenomena, and in BME disciplines pursued at the Faculty (Bioelectric Effects, Physiological Cont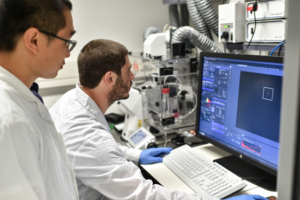 rol, Cell and Tissue Mechanics, etc).
The program integrates courses aimed at providing students with practical and laboratory experience and to encourage innovativeness, and includes four laboratory courses and two project courses, in which students apply acquired engineering knowledge to design biomedical devices and systems.  In addition, a clinical-engineering project is conducted in clinical hospital departments, exposing students to the clinical work environment, and to the engineering needs in demand of solutions.
Electives courses are intended to enable students to specialize in specific fields of interest.  The list of electives includes a variety of topics, including: Diagnostic and therapeutic devices | Noninvasive techniques | Imaging techniques | Medical signal and image processing | Physiological control | Optics and ultrasound in imaging and therapeutic |  Musculo-skeletal and joint systems | Orthopedics and rehabilitation biomechanics | Tissue and cell engineering |  Artificial organs and aides | Biological flow systems | Respiratory systems | Biosensor systems | Biochemical engineering | Molecular engineering | Tissue engineering | Biosensors | Artificial metabolic Organs |Controlled-release drugs
Biomedical Engineering Focus Tracks
 Medical Imaging and Signals
 Biomechanics and Flow
Tissue Engineering and Biomaterials.
Students must choose at least two areas of focus.
Joint Programs
Biomedical Engineering and Medicine
A joint program between the Faculty of Biomedical Engineering and the Faculty of Medicine.
This exclusive program is intended for candidates with an exceptionally high admissions index (Sekhem), who pass the National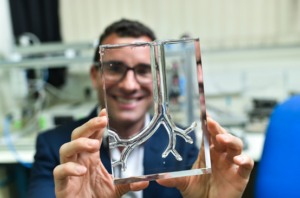 Medical School Evaluation Exams (MOR).
This unique program confers a joint degree: A Bachelor's degree (BSc) in Biomedical Engineering and Medical Sciences after four years.  An MD is granted after an additional three years (clinical) and one year of internship (see admissions requirements to the School of Medicine for students with an academic background).

Advisors for Biomedical Engineering and Medicine only:
Biomedical Engineering: Associate Professor Netanel Korin | 04-8294116 | korin@bm.technion.ac.il
Asya Ashkenazi-Yelisyava | 04-8294123 |  office@bm.technion.ac.il
Biomedical Engineering and Physics
Joint program between the Faculty of Biomedical Engineering and the Faculty of Physics.
Students in this program gain a broad basis in nano-biophysics.
This four-year program confers a Bachelor's degree in Biomedical Engineering and Physics.

Advisors for Biomedical Engineering and Physics only:
Assistant Professor Netanel Korin | 04-8294116| korin@bm.technion.ac.il , Asya Ashkenazi-Yelisyeva | 04-8294123 | office@bm.technion.ac.il
Graduates' Experience

Ori Laueterbach, graduate BSc in BME
Do you want your occupation to advance mankind and not only bring in money?  The Faculty of BME will provide you with the tools you need to become a multidisciplinary engineer, with a monumental advantage in understanding the Life Sciences and Medicine jargon, alongside Engineering jargon.
After serving in the army, I deliberated about which course of studies to choose. I looked into various study programs, but it was clear to me throughout, that I would study in the Technion, one of the country's leading institutes.  My interest and the potential embedded in a BME BSc  degree, attracted me.
The studies at the Faculty were challenging, but most interesting. The high acceptance requirements, results in a student body, of the highest quality and standards throughout the Technion. The limit on the number of students enables a close relationship between the students and staff, which makes the studies enjoyable with personalized attention.
During my undergraduate studies, I began working in a research lab at the Faculty, which exposed me to the world of research, and helped me focus further professional decisions.
Today, I am a part of a team developing a medical product in a leading company, in the discipline.

Professor Josue'  Szitman | 077-8295678 | sznitman@bm.technion.ac.il
Asya Ashkenazy-Yelisyeva | 04-8294123 | office@bm.technion.ac.il

Or visit our Website.