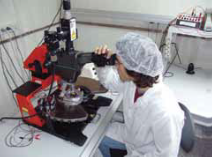 Joint study program between the Faculty of Biomedical Engineering and the Faculty of Physics.
This novel program in intended for a limited number of Honors students interested in gaining scientific and technological knowledge in biomedical engineering disciplines, together with a deeper physical understanding of modern biomedical engineering phenomena and research tools.
At the end of the program, students are granted a BSc in Biomedical Engineering & Physics.
In this program, effort will be made to adjust the schedules and exam schedules between the two tracks. It is difficult to adjust the program for a very small number of students. Therefore, the length of the study program may be longer than planned.

In Biomedical engineering:  
Professor Shechtman Yoav| 04-8291422 | yoavsh@technion.ac.il
Asya Ashkenazy | 04-8294123 | office@bm.technion.ac.il
bm.technion.ac.il
In Physics:
Professor Oren Bergman  | 04-8293546 | bergman@physics.technion.ac.il
Maman Ester |  04-8295585 | eti@physics.technion.ac.il
phys.technion.ac.il


Curriculum
For undergraduate study catalog click here.