Architecture program
Study Programs
Architecture Science
BArch
Career Options and Job Opportunities
In every age, architects have striven, through their work, to take advantage of their period's technological and scientific achievements and the accumulated experiences of their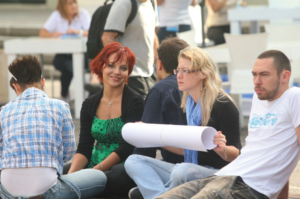 predecessors, in order to create environmental conditions appropriate to human physical, social and emotional needs, social organizations and values. This goal bestows upon Architecture an important place among the creators of each age's cultural resources.
The Architecture track trains students for work as  designers of physical environments: from urban settings, to residential neighborhoods, public and residential buildings to interior design.
The architectural approach to work is inclusive and comprehensive.
Architects must be aware of different scales (bearing in mind environmental implications and a myriad of small details) and very proficient in the full scope of design components (aesthetic, functional, economic, ecological, technological, social, psychological, legal, etc.).
Whether architects work as part of a design team or alone, they are obliged to coordinate the design and execution of any project with those who commission the work, the local authorities, planners from other disciplines (landscape architects, urban planners, transportation, lighting, and air conditioning engineers, as well as m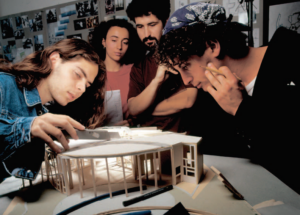 any others), and with those who actually carry out the work. They must be aware of the needs and demands of those who will be using the buildings and areas, and be cognizant of the values of preserving the landscape and the environs. Buildings' long lifespan , and other variables of the physical surroundings, as well as the rapid pace of our lives, compel architects to cope with the problems of time. Their work must be designed such that the end product can withstand the possible changes in function and significance over time.
Graduates of the Architecture track are involved in the design and execution of urban plans, the design and renewal of residential neighborhoods, the design of different building types, of building products and accessories, interior design and furniture. Their work is conducted in the framework of government offices, local authorities, private firms (as self-employed or salaried architects), building and construction companies. Some graduates prefer to work in related professions such as graphics, product design and education in professional schools. Students with excellent records may continue on to acquire their second and third degrees, and specialize in research and development.
Study Program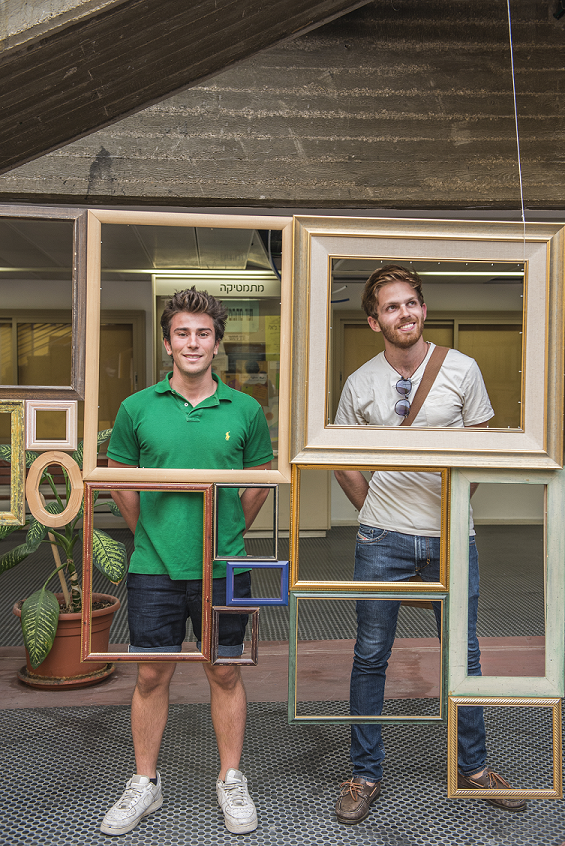 The track's study program is based on an all-inclusive approach to the design of people's physical surroundings, with all that this implies for creating suitable conditions for their existence and development as a society and as individuals.
The study program consists of two parts:
An undergraduate eight semesters part, which is intended to provide students with a broad basis of architectural education. Students must earn 160 credits to complete the program, which culminates in the degree of a Bachelor's of Science in Architectural Studies (BSc).
A graduate four semester part, which is intended to provide students with the professional knowledge needed to practice Architecture. Students must earn 80 credits to complete the program, which culminates in the degree of a Master's of Architecture (MArch).
The 3-4 year undergraduate program is intended to give students as broad as possible a theoretical education, so that they are able to understand, analyze and solve complex problems and develop their creative talent. The study program combines theoretical courses related to different aspects of architectural design with courses that support analysis and help guide the  solution. There is more emphasis on theoretical courses in the beginning semesters so as to provide students with a solid foundation in the core sciences, engineering sciences, social sciences and environmental sciences necessary for a comprehensive approach to planning. The applied courses relate to the broad scope of areas dealt with by architects at each stage of the design process - from recognizing and defining a problem, up to devising solutions and realizing them. These courses deal with different systems at the appropriate level of detail. The length of this program depends on the pace of studies students choose to undertake, and can be completed in three to four years.
Among the primary fields of study are: architectural design studios, urban design, interior design and furniture, morphology, structural technology and industrialized buildings, environmental control and energy considerations in design, theories and history of Architecture and urbanism, people-environment relationships, computer use in physical design (in industrialized construction, environmental control, morphology and different research studies), etc.
The two-year graduate program is intended to further develop and enhance students' knowledge that is needed to become licensed professionals. It emphasizes Architecture's professional aspects, deals with more complex problems, and provide students with ample opportunity to specialize in selected areas such as: Sustainable Architecture, Digital Design and Fabrication, History, Theory and Criticism, Urban Design, Conservation and Renewal.
Libraries and Laboratories
Students have, at their disposal, a specialized architectural library, a computer lab, photography lab, a workshops for working with wood, and metal, etc.), a gallery for exhibits, a 3D visualization theater, a digital fabrication lab, and a climate lab, and design studios with work spaces and individual storage areas for each student.


04-8294006 | arcstud@technion.ac.il 
For additional information, please visit our website.