The purpose of this Program
The purpose of Medical studies is to train physicians (MD), with extensive education in sciences and a sound foundation in theoretical and practical aspects of the modern clinical medicine. This program provides its graduates with the tools they need to cope with the human challenges involved in medical care and with the complex technological arena, in which they will be required to function as physicians.
The program
1st – 3rd year (para-clinical years): the first three years encompass a wide variety of scientific and medical classes. Teaching takes place in the campuses of Neve Sha'a
nan and Bat Galim (with most of the 1st year teaching taking place in Neve Sha'anan). After 
completing the first three years, the students will get their bachelor of Medical Sciences (BSc).
4th – 6th year (clinical years):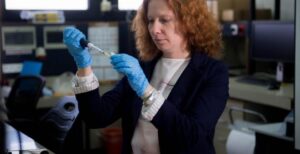 The first part of the 4th year, incorporates materials studied during the para-clinical years with practical and clinical training. Later on, most of the time will be spent in group internship in hospitals affiliated with the Technion's School of Medicine. The last half of the 6th year is dedicated to the final exams.
Final paper
During school, the students are required to submit a paper, which constitutes a part of the MD requirements and a condition for the year of internship.
Internship year
Internship will take place in one of the hospitals in Israel. Assignments will be decided by a raffle. During the internship year, the students study and work under senior physicians in several mandatory wards and a few elective ones.
Having completed six years of school and complying with all the academic requirements, the final paper, final exams and the year of internship, the students will receive their "doctor of medicine" (MD) degree.
The school of medicine encourages its students to expand their scientific education. There are three programs available for people who were accepted to medical school:
The Rothschild-Technion Excellence program: for outstanding Technion students who are able and willing to learn "differently". Only a few first year medical students are accepted for this program, who are offered an individually tailored scientific program. This program is also offered separately for students who were accepted to medicine and to the excellence program separately.
A double degree program in bio-medical engineering: for candidates accepted to medical school, who wish to incorporate bio-medical engineering. This program grants a double degree: master of sciences (BCs) in bio-medical engineering and bachelor of sciences (B.Sc) in medical sciences. Having completed all subjects in the double degree program, the student may continue to the clinical division (in accordance with the medical articles) for three extra years, followed by a year of internship, to receive their MD.
Combined medicine and research program: intended for outstanding medical students for their para-clinical years. This program trains the students for the double degree of medical doctor (MD) and doctor in sciences (PhD).

Michal Keren | 077-8871166 | kabalamd@technion.ac.il
md.technion.ac.il

 
Alumni's testimonials
Shira Buchris, graduated from the school of medicine

From a very young age I have dreamed of being a doctor. This feeling grew when I realized that this profession encompasses aspects that have always interested me, such as working with people, studying, research, challenges and helping others.
I also served as students' academic representative, because I wanted us to be heard and responded to and I wanted to be a part of academic improvements. I always believed that observing and absorbing was a very important part of learning because you can get something from everyone.
The Technion is one of Israel's most valued institution, with the highest level of professional and quality teaching. I was captivated by the unique ambiance with Mt. Carmel overlooking us. The school and the hospital, located close together offer a dynamic clinical environment conducive to diagnosis, care and research.
The program is experiential and challenging. Studying is an integral part of the day-to-day work of the attending physicians, and even at the early stages one experiences the intellectual challenge, the gratification and the joy of this profession. The doctors, junior and senior alike exhibit admirable motivation and willingness to pass their knowledge to the next generation.
Students receive personal support. The teachers and administrators are available and they respond to questions and request throughout the long program. Students are exposed to a large variety of medical fields, both clinical and research, and they are given the opportunity to follow their own passion later in their professional career.
In conclusion, I wish the candidates best of luck in their choices and their careers.

Curriculum
For undergraduate study catalog.